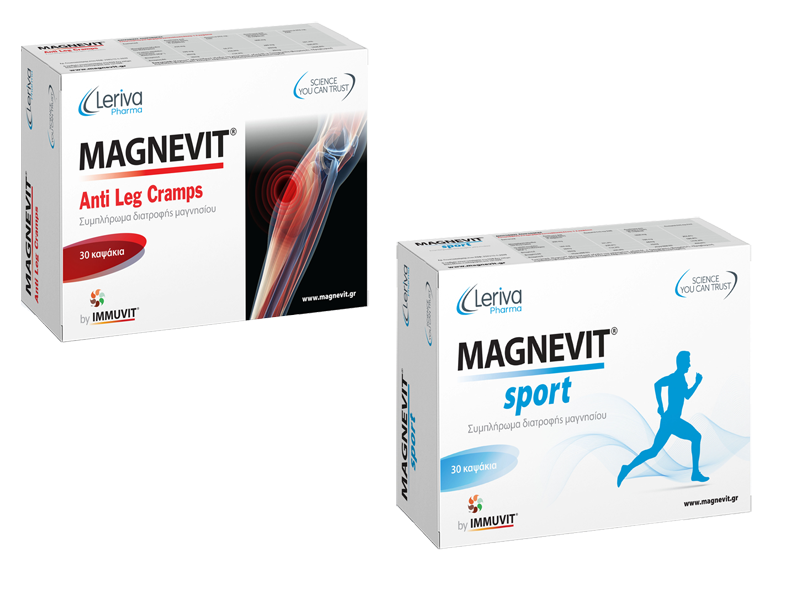 Leriva announces the launch of Magnevit, a line of premium magnesium-based supplements as part of the Immuvit family of products.
4 May 2020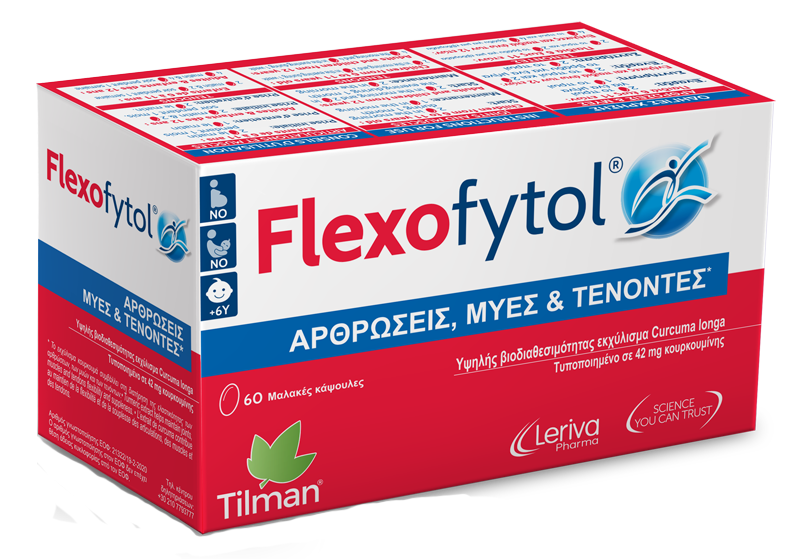 Leriva announces the launch of Flexofytol®, a patented dietary supplement that supports the flexibility of joints, muscles, and tendons
28 September 2020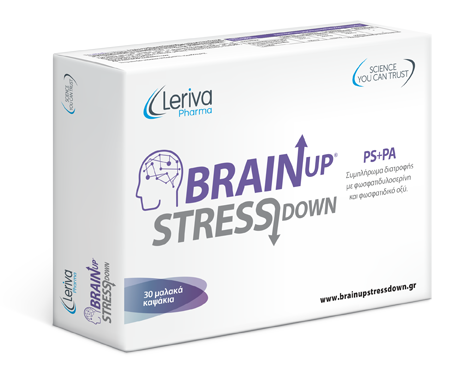 Athens, September 14, 2020 – Leriva announces the launch of BrainUP StressDOWN, adding yet another scientifically-backed and thoroughly-researched product to its rapidly growing portfolio of consumer health care products.

Developed by Israel-based Lipogen, BrainUP StressDOWN is a proven, scientifically formulated product that is backed by several clinical studies which have been published in prominent international journals. Centered on a high quality blend of phosphatidylserine (PS) and phosphatidic acid (PA), the product's patented formula is designed to provide the nutrients required by the brain to keep it performing at its peak.
BrainUP StressDOWN is a multi-effect formula which contains the key nutrients that make up the outer layers of brain and nerve cells. The scientifically formulated ingredients nourish these cells, helping to keep them strong, flexible and functional. The product's unique formulation delivers synergistic benefits that contribute in improving mental performance, sharpening brain function, strengthening information recall and memory, increasing thinking abilities, enhancing concentration, gaining focus and clarity, energizing creativity and expanding learning capacity.

In addressing stress, the product's precision blend of ingredients has been successfully demonstrated in controlled clinical trials to improve the body's response to stress, which is measured by lower levels of the stress hormone, cortisol, under psychological and socially demanding conditions. BrainUP StressDOWN counteracts stress by bringing stress hormones back into balance, thus aiding in the reduction of nervous emotions, mood improvement, concentration and the augmentation of confidence.

Available in packs of 30, each box of BrainUP StressDOWN contains two blister sheets of 15 soft gelatin capsules. Containing neither sedatives nor stimulants, the product is natural, non-GMO, has no known side effects or medication interactions, and is proven to be safe and effective for daily use.

About Leriva

Based in Athens, Greece, Leriva is a diversified health care enterprise that is constituted of four legal entities and conducts operations through several business units. Through its various business units, Leriva distributes and markets a broad range of health care products and services. With an impressive array of business collaborations and alliances with both established and emerging companies that are at the forefront of innovation with novel products and services, Leriva is active in numerous health care market segments and product categories. Leriva's customer roster includes public and private hospitals, outpatient diagnostic centers and laboratories, industrial companies, research institutes, pharmaceutical wholesalers and pharmacies.

Positioned behind the pharmacy channel, Leriva's Consumer Health Care business unit (a division of Leriva Pharma SA) markets innovative dietary supplements and consumer medical devices that help consumers improve their health and enhance their personal wellbeing.

About Lipogen

Founded in 1991 with the goal of optimizing cognitive health, Lipogen was the first company to introduce phosphatidylserine (PS) globally and clinically test soy-lecithin-based PS. With almost three decades of specialist natural phospholipid research, development and production experience, Lipogen markets products and raw ingredients that are supported by the credible scientific data, technical quality and safety to meet the growing demand for natural cognitive health solutions. The Israel-based company's products and raw ingredients, which are used in a variety of products, are marketed in a multitude of countries, including the USA. The company's flagship range of phosphatidylserine (PS) products are marketed under the Lipogen brand name in the USA and under various other trademarks internationally.