To address the specific needs and the diversity of its businesses and effectively serve the markets in which it competes, Leriva conducts business through five business units.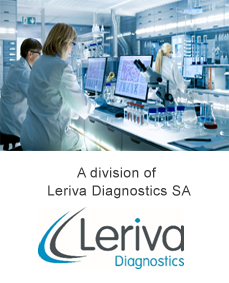 In Vitro Diagnositics
With over 300 public and private hospitals, roughly 400 diagnostic centers and a multitude of physician practices and clinics, the Diagnostics business unit (a division of Leriva Diagnostics SA) markets products that are used by doctors, nurses and other health care professionals in hospitals and clinics, primary care units and diagnostic laboratories.
The product range includes the full gamut of Beckman Coulter's Clinical Diagnostics instrumentation systems and products and encompasses Clinical Chemistry, Special Proteins, Immunoassay, Hematology, Urinalysis and Microbiology. (Clinical Flow Cytometry systems are included in the Life Science business unit).
The sales and marketing team of the Diagnostics division has extensive experience in the hospital and health care sectors in Greece, experience gained through illustrious careers in leading health care companies. Individually and as a team, they are highly respected within the health care community. With the multitude of instrumentation systems that form an integral part of the product and service offering, this business also provides exceptional after-sales support. Leriva's product specialists and professional service department, staffed by well-trained service engineers, provide exceptional service and after-sales support to both the public- and the private-sectors. In this manner the Diagnostics division is able to sustain a satisfied customer base and capitalize on new opportunities by offering customized and cost-effective solutions.
Distribution & Licensing Agreements:
Beckman Coulter
,
Autobio
&
IQ Products
Life Science & Molecular Diagnostics
Research in the treatment of chronic diseases and infections at the cellular level to better understand causes, identify treatments and test new drugs and vaccines, along with investigations across a variety of industrial sectors including food and chemicals, form the core of the life science sector.
With a primary focus on universities and research institutions, but also on the laboratories and research facilities of hospitals and industrial companies where scientists engage in research to gain a better understanding of biological and chemical matters, Leriva's Life Science business unit (a division of Leriva Diagnostics SA) provides a multitude of sophisticated tools to help them in these endeavors. These tools reduce complexity, accelerate results and enable scientists to push the limits of complex analytics.
Complementing the strong and widely-recognized equity of the Leriva brand in clinical settings, the Life Science business unit offers exceptional pre-sales and after-sales support. Whether in industrial or clinical research settings, the value proposition offered by our Life Science division is second to none.
Distribution & Licensing Agreements:
Beckman Coulter
,
Sciex
,
IQ Products
,
Seegene
,
Fluidic Analytics
,
TANBead
,
Loop Genomics
&
iRepertoire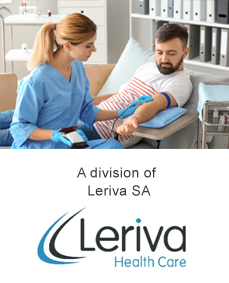 Transfusion Technology
With approximately 550,000 blood donations annually, Leriva's Transfusion Technology business unit is engaged in providing products and solutions to the various public hospitals that are active in the collection process. While many donors in Greece are unpaid volunteers who donate blood for the national supply, such supplies are limited, and donors are often called upon as part of a directed donation to give blood when family or friends need a transfusion. True autologous donations, where donors can have blood drawn for their own future use is not currently facilitated by the system. Patients undergoing operations may donate blood ahead of the procedure simply to alleviate the necessity of calling on friends and family to make donations. However, the blood donated in this manner is simply added to the existing supply base and the patients ultimately receive a transfusion from the national blood banking system.
The blood supply system in Greece is a decentralized, hospital-based system. The Hellenic National Blood Transfusion Center, better known by its Greek acronym EKEA, a public legal entity under the supervision of the Ministry of Health, is the competent authority on blood and blood products in Greece. Four centers perform Nucleic Acid Testing (NAT), a molecular technique for screening blood donations to reduce the risk of transfusion transmitted infections. Nationally, there are almost 100 public hospital blood banks that perform recruitment of donors, blood collection, blood grouping, serology testing, cross matching and transfusion. These approximately 100 public hospitals are geographically dispersed and essentially represent the customer base of Leriva's Transfusion Technology business unit (a division of Leriva SA).
Distribution & Licensing Agreements:
Fresenus Kabi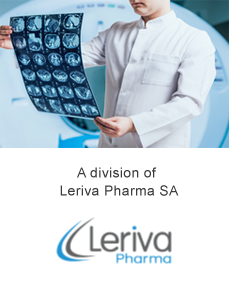 Imaging and Contrast Media
Covering a customer base that encompasses a multitude of medical specialists, our Imaging & Contrast Media business unit (a division of Leriva Pharma SA) markets an extensive range of evidence-based diagnostic image solutions to both public and private hospitals, imaging centers and private practices.
Dedicated exclusively to the partnership with Bracco, the business unit markets and supports Bracco's integrated portfolio of clinical diagnostic imaging solutions to medical specialists. These specialists, which include radiologists, neuroradiologists, urologists, cardiologists, gastroenterologists, oncologists, radiographers and sonographers, use diagnostic imaging procedures to enhance anatomic and functional visualization of internal body organs and areas. With the aid of such visualization, earlier and more accurate diagnoses are possible and this in turn results in optimized patient care.
The Bracco products cover all key diagnostic imaging modalities - X-Ray Imaging (including Computed Tomography-CT), Magnetic Resonance Imaging (MRI), Contrast Enhanced Ultrasound and Nuclear Medicine through radioactive tracers. The product portfolio provides the best integrated array of clinical diagnostic imaging solutions to address the challenges of the rapidly changing health care environment.
With a seasoned sales and marketing team constituted of individuals that have an intimate knowledge of the market and who interface effectively with customers and key opinion leaders, Leriva's Imaging & Contrast Media business unit has a sterling reputation in the local marketplace. Through extensive medical detailing, hosting of scientific symposia and participation in national and international medical congresses, the Imaging & Contrast Media business unit has established a formidable position in the market in which it competes.
Distribution & Licensing Agreements:
Bracco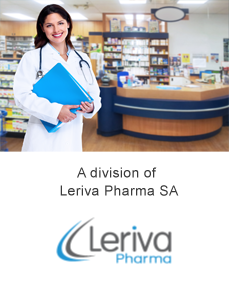 Consumer Health Care
Positioned behind the pharmacy channel and driven by the overriding theme Science You Can Trust, which conveys the scientifically-backed efficacy and uniqueness of its products, Leriva's Consumer Health Care business unit (a division of Leriva Pharma SA) markets innovative dietary supplements and consumer medical devices that help consumers improve their health and enhance personal wellbeing.
Changes in consumer habits, an aging population, demographic shifts, increased health awareness, self-medication, deregulation and the promotion of patient autonomy by the authorities to ease the pressure of government health spending, are among the themes shaping the Consumer Health Care and Over-the-Counter (OTC) market in Greece. With roughly 140 pharmaceutical wholesalers and over 10,000 owner-operated pharmacies, the market for OTC and Consumer Health Care products in Greece is fragmented.
Our extensive experience in marketing products in the pharmacy channel, coupled with the superior capabilities of our salesforce which not only services direct customers (pharmacies and wholesalers) but also calls on physicians across a multitude of specialties including neurologists, urologists, cardiologists, pediatricians, dermatologists and GP's, Leriva's Consumer Health Care business unit is set to become a recognizable force in the pharmacy channel and contribute to the company's overall growth in the years that lie ahead.
Distribution & Licensing Agreements: The development and expansion of Leriva's nutritional supplement product portfolio under the company's proprietary Immuvit brand name is backed by an array of licensing agreements, partnerships with leading ingredient manufacturers and collaborations with contract manufacturing organizations (CMOs), product formulators and contract research organizations (CROs). In addition to the products marketed under proprietary brand names (Immuvit & No More Lice), Leriva's also markets Granagard under a distribution agreement with
Granalix
.